War Historical Landscape and Monuments of War Narvik 1940
Show map

The memorial in the picture is located on the site where the first strike back against the German forces during the second world war happened. The Norwegian forces were led by General Fleischer
War Historical Landscape

15th of June 2009 the War Historical Landscape was officially opened by his Majesty the King. War historical landscape is a series of monuments placed on the distance between Narvik and Bardufoss, in memory of the dramatic battles fought during the second world war.

The purpose of the establishment is to attend and present important facts of the Norwegian war history, to recognize and honor the veterans, the different departments, both Norwegian and allied in a dignified way. The ambition is that the presentation shall be perceived as a reconciliation between the combatants.
Show more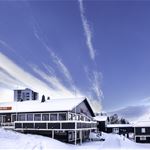 Hotel
Distance: 456 meters
Thon Hotel Narvik is a full service 4 star hotel and neighbour to the gondola that brings you up to the most beautiful view over Narvik, Ofotfjorden and the surrounding mountains.
Hotel
Distance: 448 meters
Hotel
Distance: 400 meters
Scandic Narvik is the newest hotel in the city, it opened 1st of March 2012. The hotel is one of Northern Norway's tallest builidings, and with it's 17 floors the view is spectacular. You can view the city center, the Ofot Fjord, the mountain "The Sleeping Queen" and all the surrounding mountains.