Lapphaugen Turiststasjon
Address: General Fleichers vei 365, 9357 Tennevoll
Show map
Address: General Fleichers vei 365, 9357 Tennevoll

Cozy restaurant with tasty norwegian cuisine.
Lapphaugen is an cozy restaurant where you can have coffee and cakes, take your lunch or have dinner. Here you can taste good Norwegian cuisine.

Located at the mountain you here will get food based on the inland tradition, and the menu can change from day to day, and from season to season. Most of our guest are local people, returning again and again.

Bestseller
Our bestseller is salted lamb, with mashed sewed and potatoes. Even the Vikings had salted lamb to eat. Salmon and pieces of beef are also popular. One guest once told us it was so good that he associated it with his first kiss..

Nature
The restaurant are in the middle of the artic mountains. Therefore, you often will find reindeer and moose on the menu. The recipe of meatballs made by moose, are after our beloved grandma, and are delicious after hiking.

Season
The menu will change during the year. In the autumn there will be more moose and reindeer. And before Christmas we serve traditional Christmas food as «ribbe» and «pinnekjøtt» on a buffet together with a huge variety of dessert and cakes.

Groups
You are more than welcome to have lunch or dinner for your group at Lapphaugen.

Menu:
Coffee, cakes, lunch and dinner menu as salted lamb, pieces of beef, salmon, meatballs etc

Price from:
165,- (Meat balls)

Opening hours:
15.02-14.06 Thuesday to Sunday 12.00-18.00 (Monday closed)
Easter all days: 10.00-19.00
15.06.-31.08 All days 10.00-22.00
01.09-31.10 Thuesday to Sunday 12.00-18.00 (Monday closed)
01.11-15.12 Sunday 12.00-18.00 (Other days on request)
Groups can pre book other times on request

Capacity:
Normal cafe 32 pax
Groups: 50 pax

Contactinformation and booking:
Lapphaugen Turiststasjon
General Fleichers vei 365
9357 Tennevoll
Phone: +47 771 77127
E- mail: postmaster@lapphaugen.no
Show more
About this activity
Phone number (booking)

Website

Opening hours

1st of March - 30th of October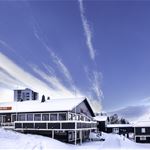 Hotel
Distance: 32.9 km
Thon Hotel Narvik is a full service 4 star hotel and neighbour to the gondola that brings you up to the most beautiful view over Narvik, Ofotfjorden and the surrounding mountains.
Accommodation
Distance: 12.4 km
We welcome everyone to enjoy the relaxing atmosphere at Fjellkysten. Fjellkysten is designed with inspiration from old Nordic architecture like the Vikings Langhus and the Sami Gamme. This is the place to let go of everyday stress and free your mind whilst also taking in the beautiful nature and picturesque surroundings.
Hotel
Distance: 32.9 km
Welcome to Quality Hotel Grand Royal, a full-service conference hotel situated in the heart of Narvik, and known for its great personal service.