The Hiroshima Stone
Address: Kongensgate 45, 8514 Narvik
Show map
Address: Kongensgate 45, 8514 Narvik

In 2005, the mayor of Hiroshima, Tadatoshi Akiba, took initiative for the worldwide organisation Mayors For Peace, and Narvik was one of the municipalities that joined. Akiba donated a stone from the reputed zero-point field Hiroshima as a gift to Narvik. The stone from Hiroshima was unveiled on august 6th 2006 in conjunction with the new monument "Piece is a Promice of the Future". Both monuments are placed in the town square of Narvik.
Show more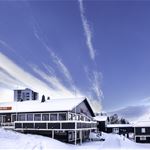 Hotel
Distance: 813 meters
Thon Hotel Narvik is a full service 4 star hotel and neighbour to the gondola that brings you up to the most beautiful view over Narvik, Ofotfjorden and the surrounding mountains.
Hotel
Distance: 204 meters
Scandic Narvik is the newest hotel in the city, it opened 1st of March 2012. The hotel is one of Northern Norway's tallest builidings, and with it's 17 floors the view is spectacular. You can view the city center, the Ofot Fjord, the mountain "The Sleeping Queen" and all the surrounding mountains.
Hotel
Distance: 293 meters
Welcome to Quality Hotel Grand Royal, a full-service conference hotel situated in the heart of Narvik, and known for its great personal service.