Are Kalvø - Hyttebok frå Helvete
Arena/Place:
Category:
Events, Visit Norway, Events, [...]
A comedian's reluctant attempt to learn to love nature
Are Kalvø is a Norwegian who does not work.
He grew up in the middle of southwestern Norway, surrounded by fjords and mountains that people travel half the globe to experience, with hiking opportunities at all sights. Yet he has never become a man of nature. He moved to the city and never looked back.
This has never been a problem. Until now.
A few years ago, Kalvø began to lose his friends to nature. Good friends, who used to meet up at the pub to talk nonsense, suddenly started going to the mountains, posting pictures of skiing trips, and seriously saying that "it is just in the face of nature that you really understand how small you are".
One day, Kalvø were to realize that he did not have a single facebook friend who had not posted a picture of himself on a mountain.
For the first time since he was forced to go skiing and hiking in school, Kalvø went on a trip, both skiing and on foot, to find his friends. And to find out what on earth was going on.

The result was "Hyttebok frå helvete", a very funny and slightly angry book about our time and our strange relationship with nature.
This evening he will tell us about the trip, about our time, about nature, and about surprisingly many others that you did not think had anything to do with it.

Afterwards you can talk to Kalvø, say almost exactly what you want to him, and buy signed books.
Date

Time

Arena/Place

Sunday 8 dec 2019
7:00 PM

- 9:00 PM
Prices from

420 NOK

Price information

Per pers

Adult per pers NOK 400
Hotel
Distance: 279 meters
Welcome to Quality Hotel Grand Royal, a full-service conference hotel situated in the heart of Narvik, and known for its great personal service.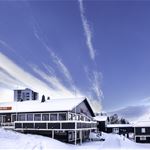 Hotel
Distance: 756 meters
Thon Hotel Narvik is a full service 4 star hotel and neighbour to the gondola that brings you up to the most beautiful view over Narvik, Ofotfjorden and the surrounding mountains.
Hotel
Distance: 188 meters
Scandic Narvik is the newest hotel in the city, it opened 1st of March 2012. The hotel is one of Northern Norway's tallest builidings, and with it's 17 floors the view is spectacular. You can view the city center, the Ofot Fjord, the mountain "The Sleeping Queen" and all the surrounding mountains.